NWOS Appliance Partnership
The NWOS Appliance Partnership can provide Pharmacy Contractors with an opportunity to offer a 'shared care' service to rival that of a 'direct to patient' provider. This ensures the patient has a consistently high level of service supported by a specialist as well as the safety and assurance of dealing directly with a healthcare professional.
---
Features and Benefits
The features and benefits of the NWOS Appliance Partnership:
Improved customer satisfaction
Confidential advice and support provided by our Clinical Nurse Manager
Alternative product advice and information
Free disposal bags and wipes (on applicable products)
Prompt next day delivery service
Late cut off for ordering - 5.30pm for next day delivery
Free product customisation - i.e. flange and pouch cutting to patients' requirements
Maintain patient contact in your pharmacy/practice
Full service support for all mixed prescriptions is provided
In addition, the NWOS Appliance Scheme can provide contractors with:
Increased profitability
No cash outlay - stock delivered free of charge
No stock wastage - only dispense what is required
Prompt payment - in advance of your own PPD payment
Fees paid by BACS directly into your nominated bank account
---
NWOS Appliance Partnership Flow Charts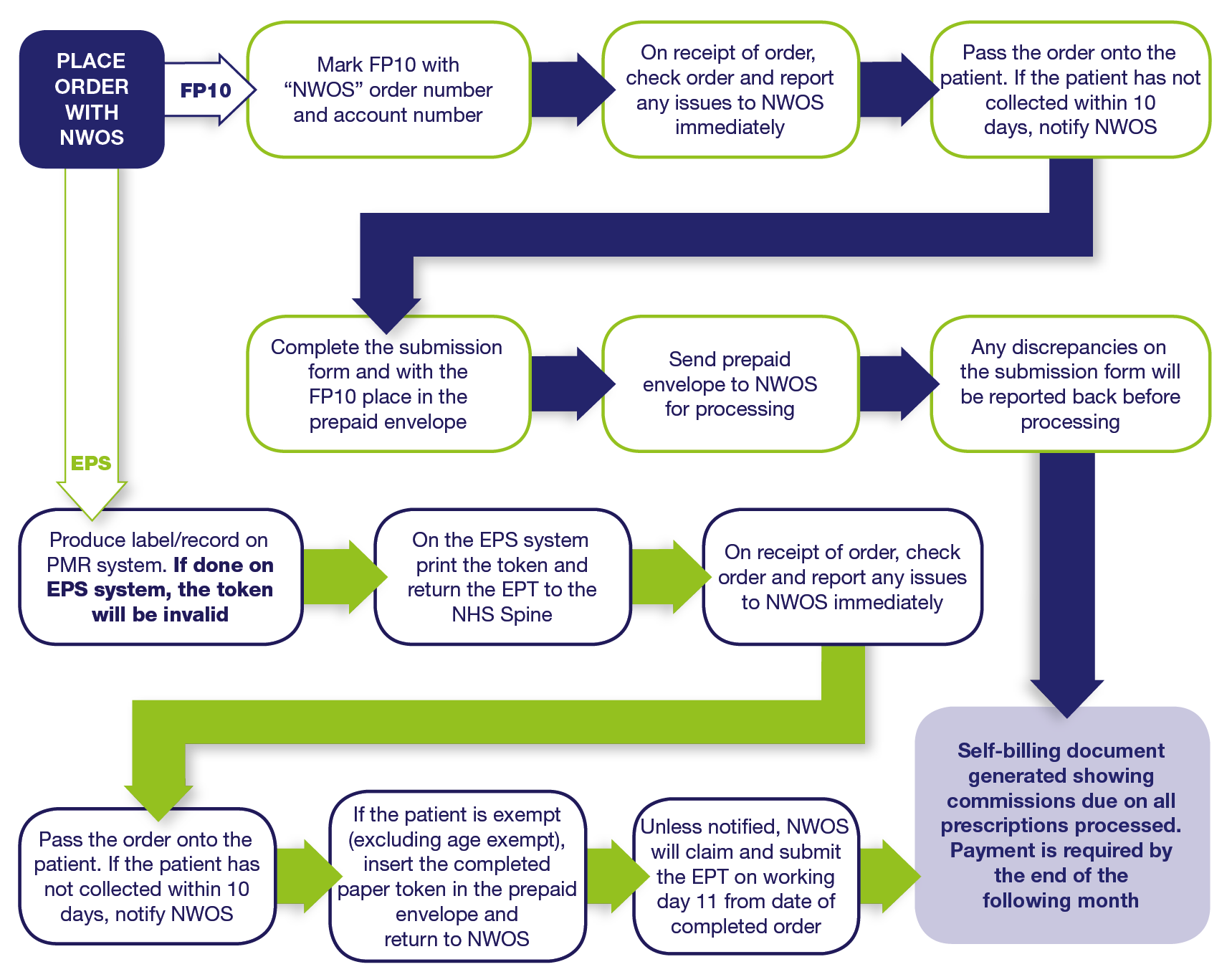 ---
Outstanding Prescription Process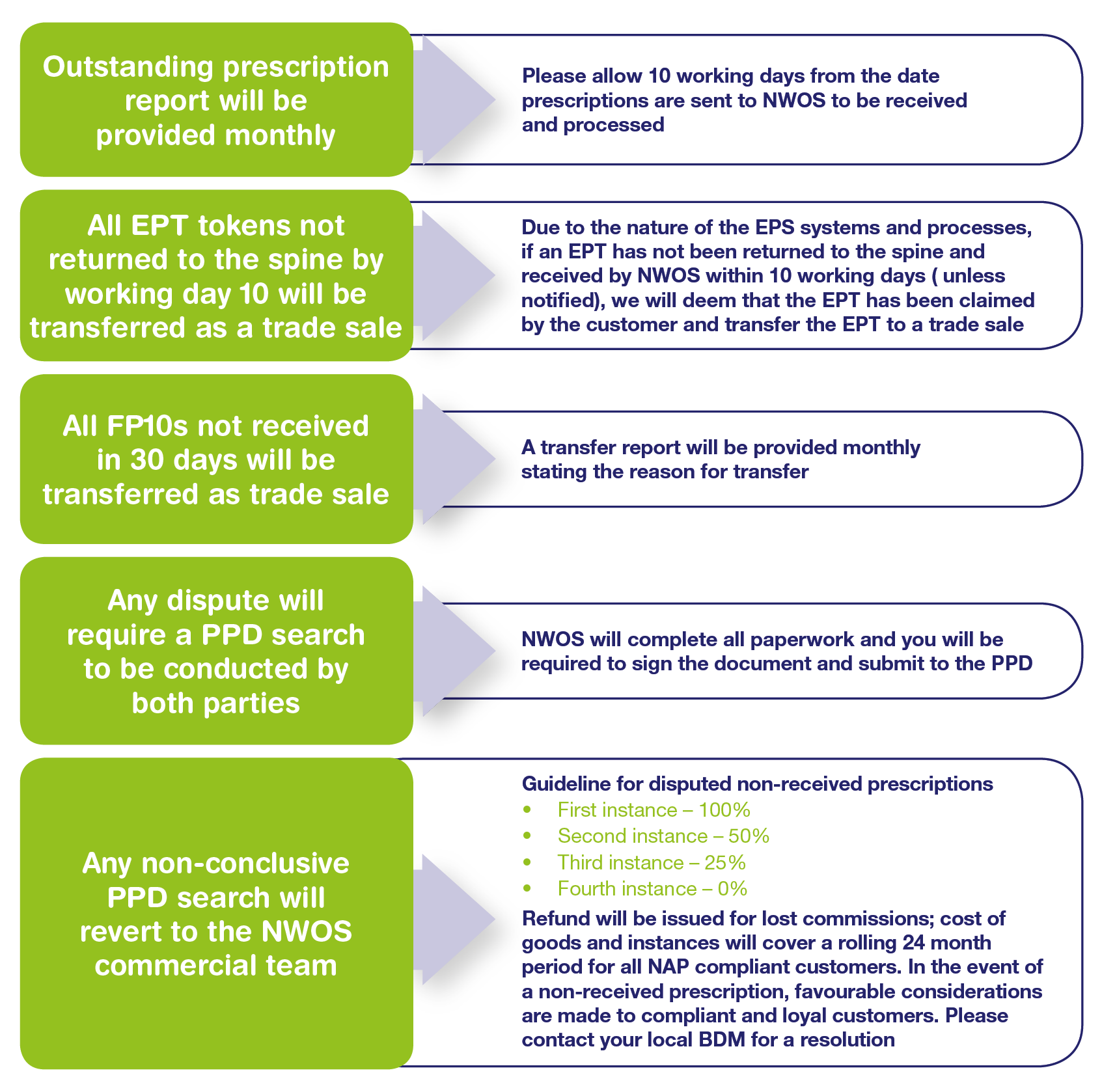 ---
Part IX Regulatory Changes – April 2010
From April 2010 the Department of Health revised the regulations for all Pharmacy Contractors to provide new compulsory essential services for Part IX prescription items.
In acknowledgement of this, NWOS has enhanced their offering to create the 'NWOS Appliance Partnership' a true partnership that enables all contractors to be fully compliant with the regulations requirements.
There are currently 3 types of contractors providing surgical appliances to patients:
Dispensing Appliance Contractors (DAC)
Pharmacy Contractors (PC)
Dispensing Doctor Practices (DD)
Typically most DACs provide products that are delivered directly to the patient's home with little or no direct face to face interaction with the patient, whilst PCs and DDs generally provide products that patients collect with their other prescription items from their local pharmacy or dispensary. It is fair to say that most PCs and DDs do actually provide some level of home deliveries to patients should they require it.
DACs provide a comprehensive support structure for both Ostomy and Urology patients that often include their own qualified stoma and continence nurses, coupled with customisation of products, free disposal bags and wipes and sometimes other extras like a starter kit including a free wash bag, these services are extremely valued by patients. It is also widely acknowledged that many PCs and DDs have little understanding of the vast and wide variety of products that are available within the Ostomy and Incontinence product ranges. As a consequence of this some PCs and DDs have elected not to provide these products and services, others will provide these to normal level of dispensing, while a significant quantity have opted to work in collaboration or partnership with DACs who provide Agency Schemes. Agency Schemes give the patient benefit of a normal DAC, but in the normal course of visiting a pharmacy, as these DACs provide the support in the background for the PCs and DDs. This enhances the patient experience as they have face to face interaction with a healthcare professional as well as the benefits of the additional services.
From April 2010 the DH changed the way all Dispensing Appliance Contractors and Pharmacy Contractors will get remunerated for the services they provide. No longer is there the disparity between payments for services provided by these primary care contractors, instead the DH introduced a set of fees for services provided in both 'Essential' and 'Advanced' categories. These services are designed to give a more level playing field for DACs and PCs, whilst providing a consistent and transparent level of service that these contractors are providing to patients. Dispensing Doctor Practices who operate under a different schedule of the regulations were excluded from the regulation changes despite the fact they also provide these products to patients.
The services for both Essential and Advanced are set out below.